THUNDERBEAR®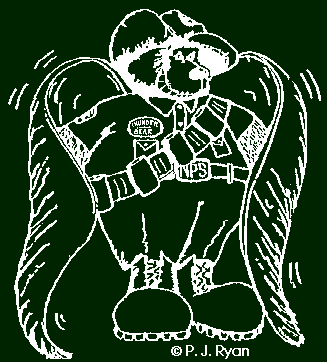 ---
WHAT IS "THUNDERBEAR"?
Thunderbear is a 2,000 pound, ten foot tall beer drinking flying bear. Thunderbear's job is to protect the protectors of the environment: park rangers, forest rangers, scientists, managers, and others engaged in defending public lands against rapacious developers, special interest groups and their politician friends.

Thunderbear is a light hearted take on the "behind the scenes" of American public land management by P.J. Ryan, a 30 year veteran of the National Park Service. You can expect to read commentary on wildlife and park management of the national parks and forests as well as on history and travel, both domestic and foreign.

Below are the most recent six issues ot Thunderbear. Come back for information regarding the Thunderbear book which will be available soon!

Enjoy!

PJ Ryan can be reached at:
thunderbear123@gmail.com.
---
© Copyright 2000 - 2023 by P.J. Ryan, all rights reserved.
Site design and host by WebHarmony.